SA: 9-11 September, Saturday to Monday – The South Australian Squadron Annual 3-day-2-night Event – to Burra – 'Burra 300 Miglia'
September 9, 2017 @ 8:00 am

-

September 11, 2017 @ 5:00 pm
9 – 11 SEPTEMBER (Saturday – Monday)
Starting from Adelaide, touring to Martindale Hall, Mintaro, Paulette Wines, Burra historic "Heritage Passport Key" site visits and visit with BOCA 401 owners Arie and Christine Bout before returning via Morgan to Adelaide.  We have two nights (Saturday and Sunday) at Paxton Cottages in Burra.
Please contact Peter and Jo to register your interest or for further information.
Saturday 9th   – Depart from Adelaide 8.00am
START LOCATION:  VICTORIA PARK RACECOURSE, FULLARTON ROAD CAR PARK, ADELAIDE
Travel from Adelaide – Burra
Via: Martindale Hall for our own self-catered BOCA SAS morning tea (bring your own thermos and a biscuit, cake or slice).  The hall opens at 11am for our tour of this significant and magnificent Georgian Styled mansion.  Cost $12 per person PAYG on the day directly to Martindale Hall.
Afterwards we will then drive through Mintaro for a look at this unique hamlet and have lunch at Reilly's in Mintaro.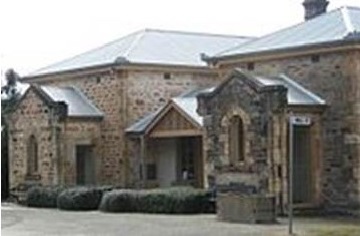 2.30 – 3.00ish After Lunch a leisurely 40-kilometre drive via Farrell Flat to Burra, check in to Paxton cottages.
Fivers at Paxton Cottages courtyard.
6.30 Dinner at the Black Sheep Italian Restaurant in Burra PAYG (400-metre walk) – "The Pizzas are superb, the chef's dinner of choice is worth choosing".
Sunday 10th 9:.0am – Exploring Burra with our Heritage Passport $5 per person by special BOCA arrangement. (Thank you Christine)
Breakfast and lunch are casual – organise yourselves – in and around Burra.
Drive and park at Arie and Christine Bout's Antiques and Collectables shop at 1 Commercial Street, Burra (550 metres)
We then plan on making use of Burra's unique Heritage Passport which allows us access to nine locked sites, including the Monster Mine area, Redruth Gaol see pictured below – Look familiar? The underground Unicorn Brewery cellars and the Dugouts etc etc, including entry to Burra's Museums during their opening hours as a feature of our BOCA passports! 49 historic sites over an 11-kilometre driving trail.
Christine Bout (Bristol 401) and Burra resident, as well as being a volunteer for the friends of Burra Railway Station, has kindly organised our Heritage Passports and has offered to act as tour guide for the Burra Railway Station visit.
Lunch PAYG – in Burra – choose a bakery or café – there are many.
Fivers at Paxton Cottages courtyard.
6.30 Dinner at Bon Accord Hotel in Burra – a homely family-run and friendly hotel –  PAYG, 2 West Street, Burra, a short 3-kilometre drive from the Paxton Cottages for a traditional pub meal  – Our host is Tim Phillips.
Monday 11th  – Burra – Morgan – Adelaide (Perhaps stay over an extra night in Morgan !!! )
The run home – nothing formally organised but we plan to stop for lunch at Morgan and afternoon tea at Swan Reach.
Please contact Peter Forrester or Jo Lewis if you have any questions.